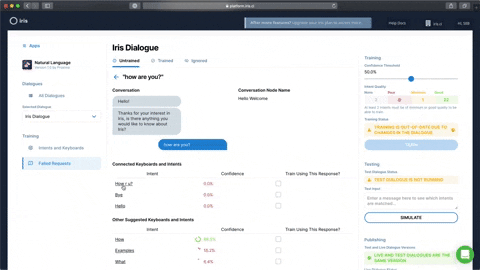 During the launch phase of a natural language experience there will be a period of time when it's live for the first time with only your base level or imported training data.
---
As you're building up user generated training data there will be miss-classifications and failed user responses. At this time your re-training will be more frequent as you capture the subtle differences in the way users describe their enquiries and requests.
As time goes on with constant training you will see failed user responses start to drop in number, meaning your training frequency can also reduce.
To streamline the process of re-training we have updated the Natural Language App on the Iris Marketplace with a new workflow.
The App updates allows you to see in a single view all the failed user responses, trained and ignored responses. When training we show you context in the conversation where the NLP (Natural Language Processing) engine wasn't able to detect a phrase, then correctly re-train it against the appropriate intent.
Here's a guide to take you through the high level concepts of the updated App features:
You can find documentation for the Natural Language App here: proxima.gitbook.io/natural-language/
The Natural Langauge App is available on the Iris Marketplace: More Info
---
Start the conversation
Ready to see Iris in your business?
---
Talk to us about how to use Iris to engage, empower and support your customers.
Take your real-time conversations to the next level.